About Us
OUR NAME SAYS IT ALL…
TRANSITIONS mission is to enable those with developmental disabilities to transition into a fuller, more independent life and integrate into the community.
Our organization provides the highest quality care for people with disabilities to teach them the necessary life skills to learn, grow, and enrich their lives.  Our quality services and supports are designed to empower the individual to participate more fully in all aspects of daily life.
By promoting choice as well as individualization, our clients learn to grow and gain valuable life skills to live more independently in the world.  Our trained, experienced, and certified Staff and Support Team will assist individuals in every possible way to lead fuller, happier lives and reach their highest potential.
Why Transitions?
Who can you trust with your special loved ones?  To care for them.  To teach them.  To protect them. To guide and encourage them. To give them the highest quality of life possible and help them be the best they can be.
These were the questions that prompted Pamela and Dennis Karp to create TRANSITIONS. They know first hand the
importance of providing caregivers worthy of your trust and confidence to transition those with disabilities into the world of those without.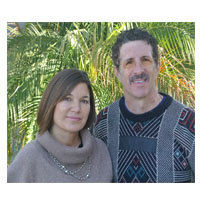 Caring for others is Pamela Karp's calling in life.  As the single mother of Jennifer, a young lady with Down Syndrome, Pamela knows first hand the issues, the frustrations, and the rewards of those with Special Needs.  As a Licensed Practical Nurse and Office Manager, Pamela uses her wide variety of experiences in the health care field to make certain individuals and families have the best care from the best caregivers. As CEO, Pamela hand picks staff to work with each consumer and her success can be seen on the smiles of consumers, staff and families alike.
Dennis Karp's life has been a progression toward helping others achieve wellness.  He is an attorney, with a degree in Psychology, who is dedicated to serving and advocating for those with Special Needs. Dennis, acting CFO, brings his legal, financial and entrepreneurial background to make a positive difference in people's lives and to help make TRANSITIONS a successful business.
Who Do We Serve?
TRANSITIONS for the Developmentally Disabled serves Individuals with Special Needs who receive services through the Division of Developmental Disabilities – DDD. If your loved one does not receive services through DDD, TRANSITIONS also accepts private pay consumers.
ALTCS/ DDD Clients – ALTCS is the Arizona Long Term Care System that provides acute and long term care services under federal  guidelines and federal funds.
The Federal Medicaid Program contracts with the Arizona Health Care Cost Containment System (AHCCCS) to provide a managed care system, part of which is ALTCS. AHCCCS in turn contracts with the Department of Economic Security/Division of Developmental Disabilities (DES/DDD) to deliver ALTCS services for eligible people with developmental disabilities.
Private Pay – Families who are "private pay" establish a contract with TRANSITIONS and will pay TRANSITIONS directly for services which we provide to the consumer. TRANSITIONS will match your loved one with a certified and trained caregiver.