Home & Community-Based Services
Home & Community-Based Services (HCBS) is a service and/or care that is provided in a consumer's house or in a non-institutional setting located in the community. The HCBS services that TRANSITIONS offers include Respite (RSP), Habilitation (HAH), and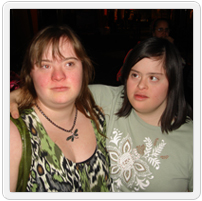 Attendant Care (ATC).
Respite (RSP)
This service provides short-term care to temporarily relieve the primary caregiver(s) for some well-deserved time off. Respite emphasizes fun in learning and can be part of our TRANSITIONS Activities Program.
Habilitation (HAH)
Habilitation works on life skill goals with individuals who can physically or cognitively learn to do the goals by themselves. HAH goals are created to give individuals the knowledge and skills to support/enhance independence, self-esteem, mutual respect and dignity.
Attendant Care (ATC)
ATC provides a qualified attendant to assist an individual to attain or maintain safe and healthy living conditions and/or maintain personal cleanliness and activities of daily living. These are activities of daily living that an individual cannot physically or cognitively learn or do by themselves.
If you would like more information please call the office at (480) 940-7915 or email [email protected].